Addiction: You Are Not Alone
By
Addiction:You Are Not Alone
Today 1,000'sof mothers across the world will be informed that their child is addicted to drugs and alcohol. They will wonder why this has happened and where are they going to turn. Thanks to an online community www.addictsmom.com they have a place to share without shame, find strength in numbers,and reinforce the idea that they are special. Many of them may feel helpess and hopeless at this timeas they search for the answers, however they will not be alone and will find solace in stories of hope.
When you visit www.drugfree.org you will find a section You Are Not Alone, where you can find stories and share your story.
The 4 videos show you that youa re not alone and that there are places to turn for assistance like The National Institute on Drug Abuse, support groups like the online community at www.addictsmom.com. There are several books about people who have overcome addiction and now lead productive lives.
Mister God, This is AnnaAuthor: Fynn
This book isn't really geared toward addiction and recovery but it will definitely warm your heart. This true story is about a very special friendship that will definitely make you think and that you won't soon forget. In a sweet, simple, and beautiful way, Mister God, This is Anna will bring a smile to your face and broaden you spiritually in every way. This story is one you will want to share with someone who may need to be spiritually uplifted.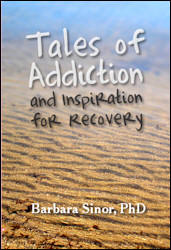 Addiction: Those Who Have Overcome Showing You Are Not Alone
 Josh Hamiliton of The Texas Rangers has battled drug and alcohol abuse and has been clean and sober for several years and a few years ago won The Home Run Derby. Josh Now Shares his story with others so as to show them the perils that he has overcome and to serve as an example to others not to start with drugs and alcohol.
 Chris Herren is a former NBA Star whose addiction to pain pills  nearly cost him his life. He was recently the subject of an ESPN 30 For 30 movie Unguarded. Sir Elton John had a turning point in his life when he met Ryan White, a young man who contracted AIDS after a blood tranfusion. Sir Elton John came to gripes with his addiction and has been clean for over 20 years. He discusses his battle with addiction in his memoir "Love Is The Cure: On Life, Loss and the End of AIDS."
Robin Williams addictions: alcoholism, previously cocaine was addicted to cocaine and alcohol early in his career, but quit both when friend John Belushi died of an overdose. When he began to drink again, he sent himself to rehab immediately.
Sam Jackson addictions: cocaine, alcoholism completed rehab in 1991, and went on to be a major movie star
Addiction: Resource So You Don't Have to Face Addiction Alone
Robert and Shelley Founders/Recovery Network
QUESTIONS:
Email: robert@recoverynetwork.info Call: 407-927-4471
Robert and Shelley Founders/Recovery Network
QUESTIONS:
Email: robert@recoverynetwork.info Call: 407-927-4471
As you continue to face the challenges of having an addicted person inyou life or being an addict yourself remember you are not alone. Please share your story under comments.